Auditions:
The auditions for the Lawrence Children's Choir are designed to be a warm, low-stress experience where we get to know each singer, their voice, previous musical experience and other interests. In fact, we like to call it a "meet-and-sing", not an audition!
It is also a time for you to get to know us, ask questions about logistics and teaching philosophy, and see if LCC is a good fit for you. We hope you'll join us!
The Process:
The "meet-and-sing" will be comprised of the following activities:
Registration (10 minutes, completed before scheduled audition time)
Registration form, to be filled out by parent/guardian
Musical assessment form, to be filled out by singer
Singing (10 minutes, open audition format with singer, parent/guardian, LCC Artistic Director, LCC accompanist)
Sing one piece ("Happy Birthday" for Choristers audition, "Star Spangled Banner" for Tour Choir audition)
Pitch memory exercise (a series of pitches will be sung, singer sings them back)
Sight reading exercise (a short written musical phrase will be shared, singer sings it back as best they can)
Range check (singer will sing repeated phrase to show range)
Questions/discussion (the most important part! A chance for any questions, discussion, etc.)
How to sign up for a meet-and-sing time:
Use the calendar below to sign up for a time slot. First choose a day, then a time that works for you, entering the required information to secure your slot.
Please arrive at least 10 minutes before your scheduled time. This will allow both parent/guardian and student to complete the required paperwork before singing. For example if you sign up for a 6:15 pm time slot please be in the church filling out paperwork no later than 6:05 pm.
Masks are optional for the audition process; please make the choice that you are the most comfortable with, and we will support you fully. All LCC staff are fully vaccinated.
Auditions will be held at Trinity Lutheran Church (1245 New Hampshire). Please park in the parking lot located East of the church (NW corner of 13th Street and Rhode Island Street) and access the church through the main double doors at the Northeast corner of the building. See attached map for parking and entrance location.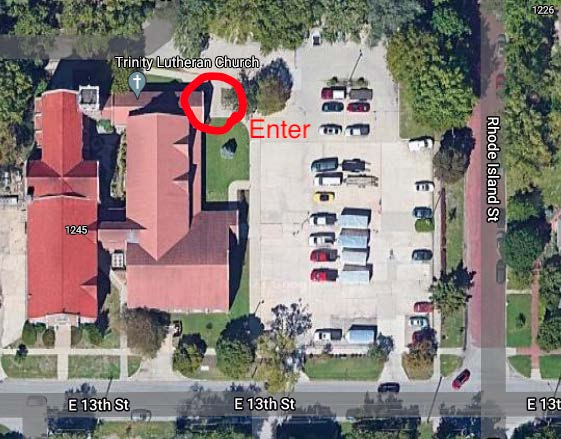 Sign up for a meet-and-sing time using the Calendar below: 
(Please arrive at least 10 minutes before your scheduled time to complete audition registration)
Helpful Materials: (click to view/listen)